1x Trigger Input
2x 10 Amp Relay Outputs
Up to 2 Minutes of Animation
Up to 2 Minutes of 8-bit Mono Audio
30 Watt Internal Amplifier
12vDC 1A Power Supply Included (optional upgrade to 12vDC 5A available)
PicoBoos have become an industry standard for controlling Halloween props and have a huge number of other applications. Offering customization and reliability at an affordable price, PicoBoo controllers are an excellent go-to device for professional prop builders and beginners alike.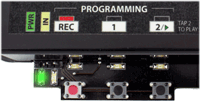 Programming in Real-Time
PicoBoo controllers are reliable and easy to use - no fussing around with complicated programs or code is needed. With all of our prop controllers, all you need to do is hit the record button, create your perfect sequence, then hit the record button again to save it.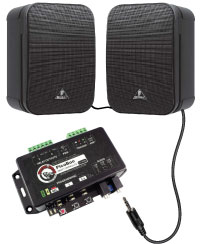 Supports Audio
The PicoBoo is the most cost-effective prop controller that supports audio using a built-in flash memory sound chip that can record up to two minutes. Best of all, you can set up any audio device using the controller's audio-in and put sounds right on the sound chip. No need to do any sound format conversion or mess with computers and installing drivers.
Record up to 8 sounds - the PicoBoo will automatically select and play them them through each sequence.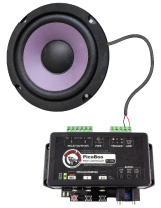 Sound Amplification in a Controller
PicoBoo actually features a 30 watt internal Class D amplifier on-board so you can use smaller and easier to hide standard speakers instead of bulky powered speakers. This makes the PicoBoo an incredibly useful controller for building props with sound.
The amplifier's full output power can only be achieved with a 4 ohm speaker and a power supply of 3 amps minimum. Using a standard 1 amp power supply is still fairly loud, but at higher volume, there may be some distortion.
Relay Outputs
The PicoBoo has two 10 amp relay outputs brought out to a pluggable terminal block. The two relays give the possibility to use different voltages - rig up a light to one and use a 12 volt solenoid to the other, for example. Each relay also has both a normally-open and normally-closed contact.
You can record up to two minutes of animation at 30 FPS.
Trigger Input
The PicoBoo also has a trigger input so you can wire in the trigger of your choosing. Whether you want to use a beam sensor, infrared motion sensor, or just set up a simple button for people to push, the PicoBoo controller can be activated using a wide variety of triggers. Or, if you want the animation to go on a loop, just use a small piece of wire to connect the minus and the IN trigger pins.
Browse our selection of triggers and learn more about them right here.

Ambient and Scare Modes
When the PicoBoo isn't active and freaking out your guests, it stays in an "ambient" mode, allowing you to program a background sound to creep out your guests as they approach. Ambient mode is specifically designed for only audio programming.

Write-Protection
We've learned the hard way how painful it is to lose your perfect program, so all of the PicoBoo controllers have a mechanism in place to make sure you don't accidentally overwrite or change your programs.
Customer Questions
Can I use a 12V DC 10 Amp power supply with this controller?
Yes, as long as the power supply is 12V DC and at least 1Amp. You can never have too many amps, but never supply more voltage!
Can I have the recorded program run and repeat indefinitely without needing to be triggered each time?
Would there be any problems if I wired one trigger to activate two PicoBoo controllers at the same time?
Can I run a PicoBoo from a battery?
Can I record audio into the controllers via my Android or iPhone?
Can a reed switch be used as a trigger?
Yes. Most reed switches are normally-closed, so depending on your application you might have to set the trigger mode on the PicoBoo to normally-closed too. Either way it will work.
I would like to have a 10 second pause between triggered events.
Record the sequence on the PicoBoo but wait 10 seconds before tapping record to save. That will add 10 seconds of "post delay" during which time a sensor will not be able to activate the PicoBoo.
How do I make it continuously play without having to trigger it?
Simply connect a short jumper wire between (-) and (IN) and it will play the program continuously.
Is there a way to delay the sound starting, say for a few seconds, once the trigger is activated?
The way to do this is to record some silence into the beginning of your audio file.
After the PicoBoo is triggered and running animation, will another trigger during the animation restart the animation?
No, the program will run to completion.
Will the ambient sound loop indefinitely until the scare sound/animation is triggered?
Does the PicoBoo power supply support 220 volts 50 hz?
Yes, the 12V power supply included with the PicoBoo controllers will run off of 220V 50hz power as well as 110V 60hz.
Is there a way to loop the program?
Yes, you simply connect a short jumper wire between (-) and (IN).
Will this controller run servos?
Is it possible to trigger this controller with a wireless remote from Home Depot?
NO! Motions sensors from the hardware store are 120V AC and will burn up the controller. Only 12VDC trigger devices must be used with the controllers.
PicoBoo 104 Walkthrough
PicoBoo 105 Overview
PicoBoo 103 and 104 Overview