1x Trigger Input
4x 10 Amp Relay Outputs
Up to 2 Minutes of Animation
Up to 2 Minutes of 8-bit Mono Audio
30 Watt Internal Amplifier
12V1A Power Supply Included
The PicoBoo PLUS is just like the PicoBoo - simple, effective, and easy to use. Using the latest technology available, we've figured out how to include four 10 amp relays on the PicoBoo PLUS!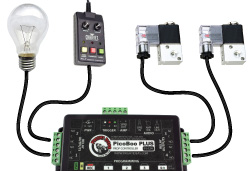 Relay Outputs
The PicoBoo PLUS has four 10 amp relay outputs brought out to two pluggable terminal blocks. Each outputs has both a normally-open and normally-closed contact so you can control just about anything.
Up to 2 minutes of animation at 30 frames per second can be recorded.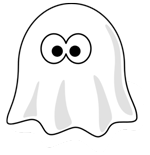 Animation During Ambient Mode
The PicoBoo PLUS is also a step above our regular controllers in that you can also create sound AND animations during the ambient mode - in other models, you can only program sound in this mode. This means you can program some creepy movements to unsettle your guests before you hit them with the real show!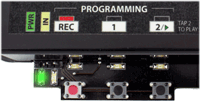 Real-Time Programming
Just like the other PicoBoo controllers, programming the device is easy using the on-board buttons. You can program all of the controller's outputs at the same time or layer them one by one to create complex and dynamic arrangements. No weird button sequences to punch in or manuals to fumble with, just use one button for each outlet by pressing record and programming your animation.
Supports Audio
The PicoBoo PLUS also uses a built-in flash memory sound chip so you can not only playback sounds, but you can record up to two minutes of your own. Just plug in any audio device right into the audio-in port and record the sound directly. It's simple and requires no software or file format conversion. You can also record up to 8 sounds which the device will automatically cycle through.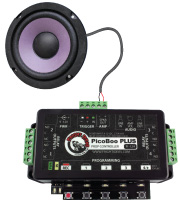 Amplified Sound
The PicoBoo PLUS comes with a 30 watt internal Class D amplifier so you can use standard speakers which are smaller and easier to hide in your props and around your scene.
The amplifier's full output power can only be realized with a 4 ohm speaker and a power supply of at least 3 amps. The standard 1 amp power supply is definitely loud, but as the volume increases to a certain point, you may notice some distortion.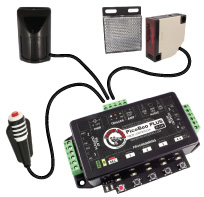 Trigger Input for Activating Props
The PicoBoo PLUS supports triggers such as infrared motion sensors, beam sensors, pressure sensor mats, and hand triggers through the use of a trigger input. You can also set up the controller to loop a program by using a small wire to connect the - and IN trigger pins.
Our selection of triggers can be seen here.

Write-Protection
Like our other Halloween prop controllers, the PicoBoo PLUS has a safeguard mechanism to prevent you from accidentally erasing or modifying your carefully crafted program.
Customer Questions
Can I use a 12V DC 10 Amp power supply with this controller?
Yes, as long as the power supply is 12V DC and at least 1Amp. You can never have too many amps, but never supply more voltage!
Can I have the recorded program run and repeat indefinitely without needing to be triggered each time?
Would there be any problems if I wired one trigger to activate two PicoBoo controllers at the same time?
Can I run a PicoBoo from a battery?
Can I record audio into the controllers via my Android or iPhone?
Can a reed switch be used as a trigger?
Yes. Most reed switches are normally-closed, so depending on your application you might have to set the trigger mode on the PicoBoo to normally-closed too. Either way it will work.
I would like to have a 10 second pause between triggered events.
Record the sequence on the PicoBoo but wait 10 seconds before tapping record to save. That will add 10 seconds of "post delay" during which time a sensor will not be able to activate the PicoBoo.
How do I make it continuously play without having to trigger it?
Simply connect a short jumper wire between (-) and (IN) and it will play the program continuously.
Does the whole scene have to be programmed simultaneously or can each relay be programmed separately?
Each can be programmed separately or all at once. See "Recording One Output at a Time" in the product manual.
Is there a way to delay the sound starting, say for a few seconds, once the trigger is activated?
The way to do this is to record some silence into the beginning of your audio file.
After the PicoBoo is triggered and running animation, will another trigger during the animation restart the animation?
No, the program will run to completion.
Do I need any type of diodes when I use solenoid valves with the PicoBoo controller?
Is there a way to loop the program?
Yes, you simply connect a short jumper wire between (-) and (IN).
Will this controller run servos?
Is it possible to trigger this controller with a wireless remote from Home Depot?
NO! Motions sensors from the hardware store are 120V AC and will burn up the controller. Only 12VDC trigger devices must be used with the controllers.