Powering 12VDC Devices from a PicoBoo
This information applies to the PicoBoo Jr (103), PicoBoo (104), and PicoBoo Plus.
Diagram shows a 12VDC solenoid but also applies to other 12VDC devices such as LED lights.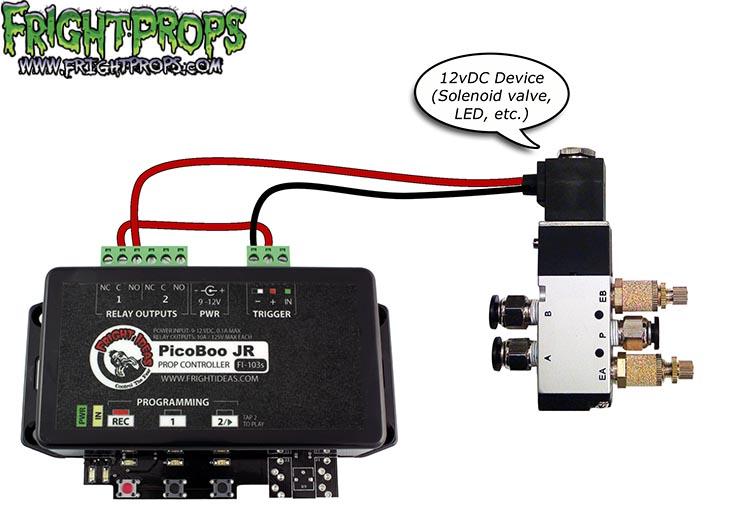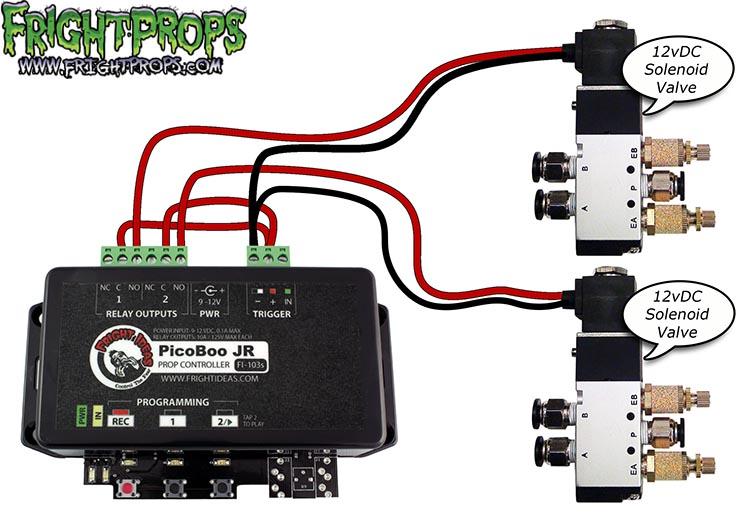 PicoBoo PLUS with one 12V solenoid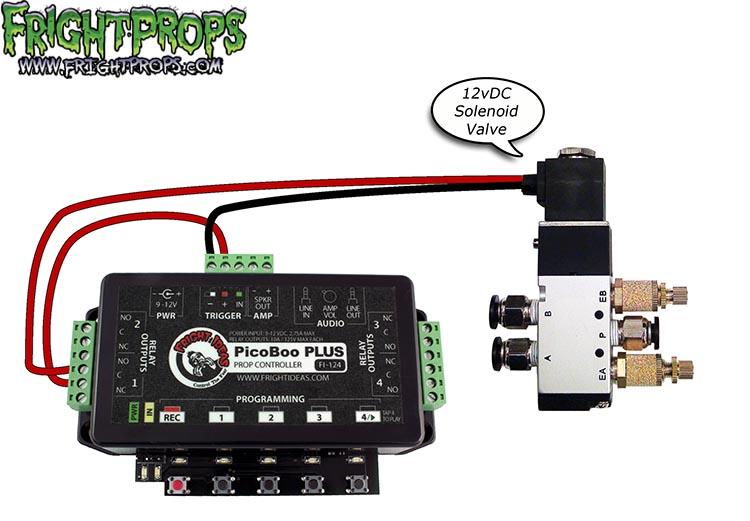 PicoBoo PLUS with three 12V solenoids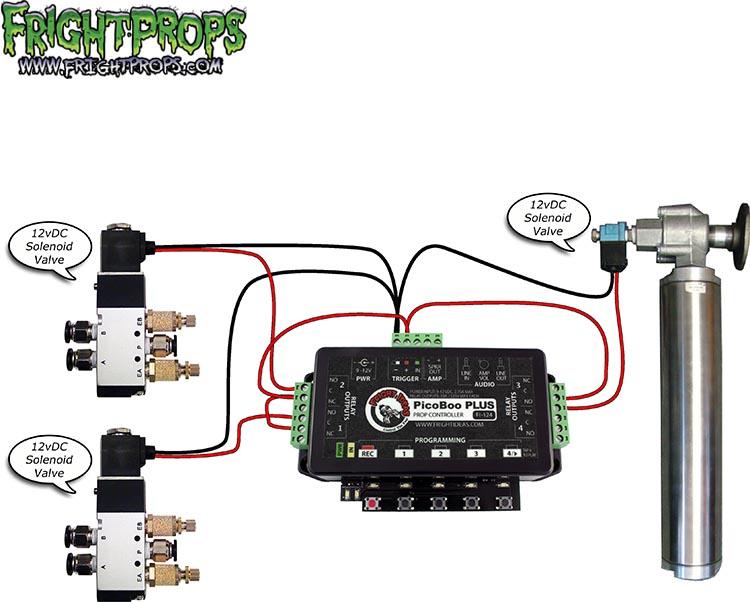 PicoBoo PLUS with four 12V solenoids and a 12V relay sharing an output TO POWER A 110V DEVICE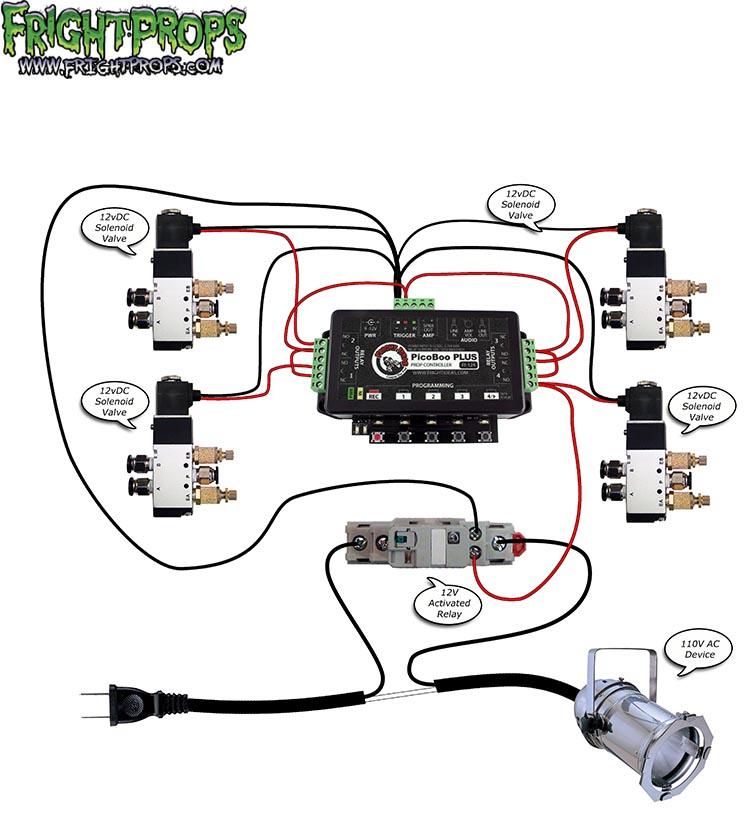 Have a pre-2009 PicoBoo?
The wiring is slightly different as shown in this diagram: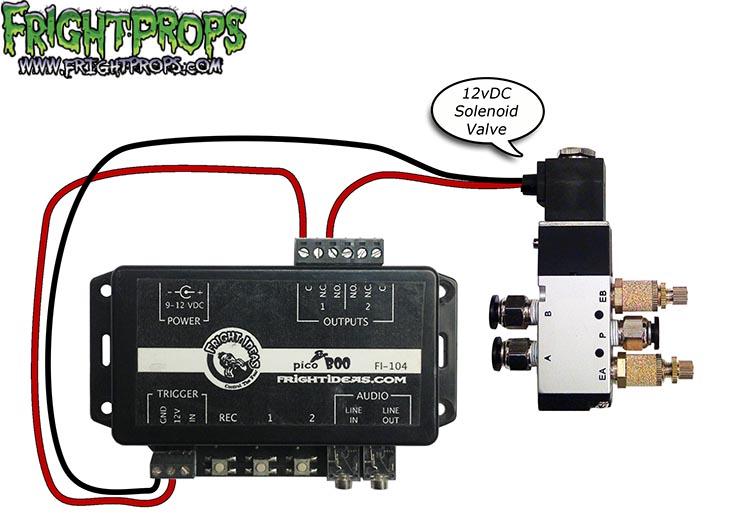 Also Using A Trigger
If you also need to use a trigger simply wire it as you normally would. It will share the negative (-) and possitive (+) terminals as shown.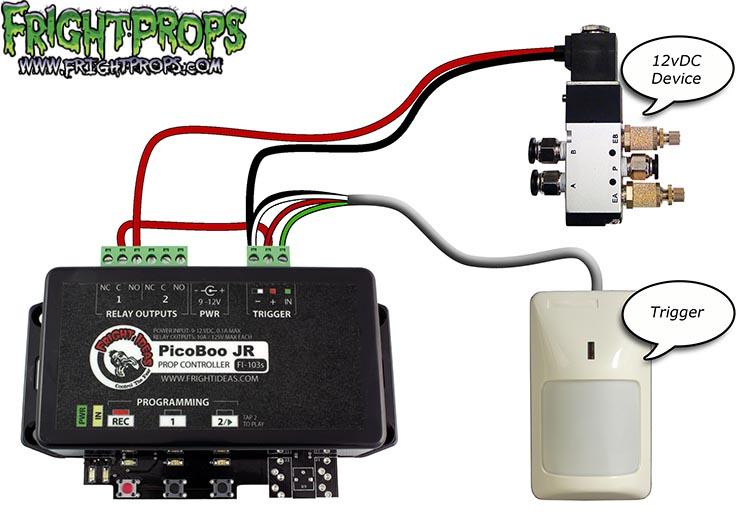 USING AN AC AND DC DEVICE ON THE SAME CONTROLLER
Here is how to wire up a DC device on output 1 and an AC device on output 2 along with a motion sensor.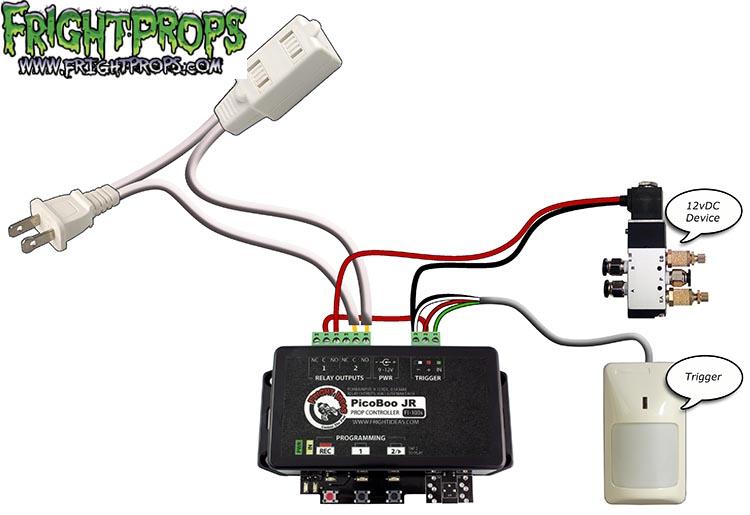 COPYRIGHT © FRIGHTPROPS, LLC. PLEASE CONTACT US IF YOU WOULD LIKE TO REPRODUCE OR REPUBLISH PORTIONS OF THIS DOCUMENT. THE USER ACKNOWLEDGES AND WARRANTS THAT IT BEARS FULL AND COMPLETE RESPONSIBILITY AND LIABILITY FOR THE FINAL DESIGN OF ANYTHING THAT INCORPORATES THE PURCHASED PRODUCTS, INCLUDING FULL AND COMPLETE RESPONSIBILITY AND LIABILITY FOR THE PROPER AND SAFE INSTALLATION, OPERATION, AND MAINTENANCE OF THESE PURCHASED PRODUCT(S).
WARNING: HYDRAULIC AND PNEUMATIC POWER SYSTEMS CAN FAIL THROUGH MISUSE, AGE OR MALFUNCTION. THE SYSTEM DESIGNER IS WARNED TO CONSIDER THE FAILURE MODES OF ALL COMPONENTS USED IN THE DESIGN AND ENGINEERING OF ALL SYSTEMS AND TO PROVIDE ADEQUATE SAFEGUARDS TO PREVENT PERSONAL INJURY OR DAMAGE TO EQUIPMENT IN THE EVENT OF SUCH FAILURES