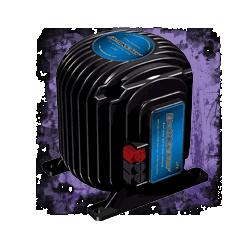 Transducers create vibrating and shaking effects. This is how they work: A speaker contains an electromagnet that moves a cone which displaces air. A transducer is similar, but instead of a cone it contains a steel piston that moves and creates vibration. Just like a speaker, a transducer requires an audio source. The lower the frequency the better as this will move the piston the most. That's why we offer the
LOW FREAK FX
audio to maximize the shaking effects.
Transducers work by shaking what they are attached to. The effects will be greatly diminished if the object to vibrate/shake is directly in contact with the floor and so must be isolated by using rubber. We offer
Transducer Isolation Rubber Feet
for this purpose. Rubber isolation is already in place when using one of our
Motion Platforms
and so additional isolation is not required.