1x Trigger Input
2x 500 watt Dimmable AC Outputs
Up to 36 Minutes of Animation
Up to 36 Minutes of MP3 Stereo Audio
2GB SD Card Included
Power Cable Included
The PicoFX is an ideal controller for replicating a ton of environment simulations. Its dimmable controls work particularly well for creating the effect of raging thunder and lightning storms or imitating power shortages and electrical malfunctions. Effortlessly programmable, this specially designed lighting effect controller is also optimal for a Pepper's Ghost illusion, allowing you to seamlessly fade lighting in and out.
PicoFX Used in a Yard Display

Customizable Lighting Effects
While six examples are provided on the PicoFX SD card, this controller can be setup for virtually any specific lightning effects. As you program your effects, the PicoFX will automatically match them up with the audio. Lighting designs can also be arranged to repeat on a loop or you can set them up to run off a trigger of your choosing.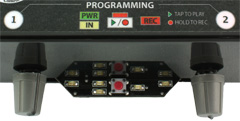 Simple Programming
One of the reasons that the PicoFX is so popular is because of how easy it is to program. Just hit the red "record" button and begin turning the knobs to control your lights. When you're done, tap the record button again and it's ready to go.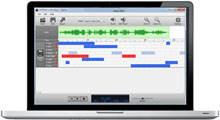 Compatible With Director Software
For fine tuning and more complicated lighting programs, the PicoFX can also be used with our free Director software. While turning knobs on the controller may be easy, we wanted to make sure that the PicoFX was capable of creating even the most intricate lighting patterns. Our Director program will save your specially designed creation right to the Pico FX's SD card.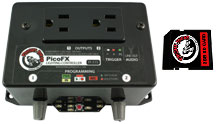 Supports MP3s
While certain fast-moving props can afford to sacrifice some of their sound, for the subtle unsettling effects of a deep thunderstorm, it's essential that your lighting effects are in sync with high-quality audio. By loading up the SD card with a great sounding MP3, you can knock their sweaty socks off by making sure they're amazed with their eyes AND their ears.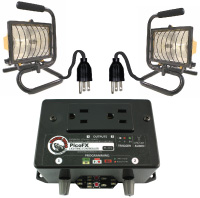 Dependable Outputs for Lighting
The outputs on the PicoFX are able to handle up to 500 watts, meaning you can use a pair of powerful lights or you can rig up numerous smaller lights. While a lot of people decide to go with halogen flood lights, you can customize your scene further by incorporating a lot of smaller lights as well.
We recommend NOT using dimmable LEDs with the PicoFX. They generally look horrible as they do not dim fast enough to be used for lighting effects.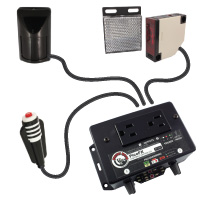 Input for Trigger
Although you can set the trigger to play over and over again repeatedly, the PicoFX can also be used with a number of triggers. Set your lighting effects to run when someone passes by an infrared motion sensor or simply wire in a pressure sensing mat. Play around and use whatever works best for your scene.
Customer Questions
Can the motion sensor trigger be 5VDC or must it be 12VDC?
What is the difference between the PicoStorm and the PicoFX?
They are exactly the same. The PicoStorm simply comes pre-programmed with the storm audio on the SD card and can easily be changed.
Is it possible to trigger this controller with a wireless remote from Home Depot?
NO! Motions sensors from the hardware store are 120V AC and will burn up the controller. Only 12VDC trigger devices must be used with the controllers.
Is there a way to delay the sound starting, say for a few seconds, once the trigger is activated?
The way to do this is to record some silence into the beginning of your audio file.
Would there be any problems if I wired one trigger to activate two PicoBoo controllers at the same time?
PICOFX & PICOSTORM: LIGHTS STAY ON AFTER PROGRAM RUNS?
If the PicoFX lights stay on in ambient and this is not what you want then simply turn the knobs down (counter-clockwise all the way to the left). This behavior is by design. If there is no program in ambient mode then the lights just go to the brightness the knobs are set to. That way if you don't want complete darkness after a particular program you can just leave one of the knobs up a bit. If you do want darkness just turn them both down.
PICOSTORM: CHANGE TO TRIGGERABLE FROM CONTINUOUS PLAY?
Sometimes it is desired to be able to trigger the storm to start playing when triggered by a mat or a motion sensor. Follow these steps to configure the PicoStorm/PicoFX to to that: 1) Put the SD card in your computer. 2) Open the /FI-115/AMBIENT folder 3) Copy the files in that folder (they are 000.BIN and 000.MP3) 4) Open the /FI-115/INPUT1 folder 5) Paste the two files into this folder 6) Go back to the /FI-115/AMBIENT folder and erase the files that are in there (000.BIN and 000.MP3) ...
Video 1
Peppers Ghost Demonstration