Scream Box To Go w/ Wireless Trigger
A small speaker with built-in, triggerable MP3 player and a wireless remote to play up to 4 different sounds!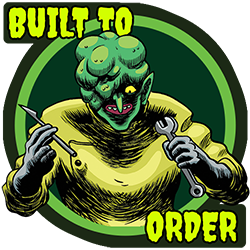 This product is built when ordered and can sometimes take several days or weeks to ship. Please contact us if you require an exact ship date.
This little powered speaker with built-in MP3 player packs a punch!
Comes pre-loaded with four scary sounds. Installing your own sounds is simple and easy by using a mini-USB cable connected to a PC (not included) or load them onto an optional micro-SD memory card.
This bundle includes a 4 Relay Wireless Trigger to activate the sounds at the push of a button! Also includes a power supply.
Features:
Built-in high quality MP3 player with great sound quality.
Incorporated with a 4MB flash memory and a micro SD slot on board.
Upload MP3 files to the flash memory easily through the mini USB.
Supports a micro SD card as the storage device as well.
Play back 4 sounds one-by-one by negative trigger.
Equipped with a 10 watt amplifier for loud sound output.
Adjustable sound volume and wide range power input.
Dimensions: 99x80x80(mm)
Specifications:
Working voltage: DC 9V-24V
Working current: ≤400mA (Input: DC12V)
Power Consumption: ≤10W
Flash memory size: 4MB
Audio format: MP3 format 32Kbps-320Kbps

NOTE: You will have to open the unit and access the circuit board to add new sounds or use a micro SD card. This is a simple process.
Customer Questions
Where can I find wiring diagrams?
Wiring diagrams for the Scream Box To Go can be found here.