Instructables Monster-In-A-Box Halloween Prop Parts Kit
We saw this awesome Monster In A Box prop build by user Jarame on Instructables and thought it was so good we had to put together a parts kit for any other intrepid haunters who might want to give this a shot!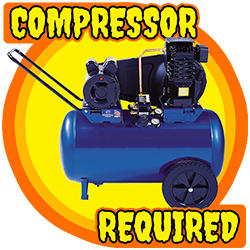 This item requires an Air Compressor. Not included!
Check out Jarame's how-to guide on the Instructables site here:
What's Included:
All the electronics and pneumatics required to create the prop!
What's Not Included:
PVC pipe, bolts, wood and other decorative/hardware elements that can be easily found at your local home center.
The kit does not come with instructions, but you can follow Jarame's guide on Instructables to make your own awesome animated Halloween prop!
NOTE: We made some small changes to the parts used in the original document. Most of these are self explanatory. The only significant change was that rather than using a Male Branch T to split the air line to the two solenoid valves, we have included a Y Union.
Full List of Everything That's Included:
1x BooBox Flex with 8 Outputs
1x PIR Motion Detector
1x 4GB SD Card
1x 12V 5A AC Adapter
1x Double Acting Universal Mount Cylinder - 2" Stroke
1x Double Acting Universal Mount Cylinder - 1.5" Stroke
2x 12vDC 4 Way, 5 Port Solenoid Valves with 1/8" Ports
2x 1/4" Flow Control Unions
20x Feet of 1/4" Polyethylene Airline
4x Sintered Bronze Mufflers
6x 1/4" Male Connector Push-On Fittings
1x Union Y (used to branch the single incoming air supply line into 2 lines, one for each solenoid)
1x Quick Connect with Push-On for 1/4" Airline (used to connect the air supply line coming from compressor)
4x 1/4" Male Swivel Elbow Push-On Fittings
2x Cylinder Foot Brackets
1x Cylinder Flange Mount
2x Cylinder Rod Bumpers
1x 12V Single Relay Board
1x Set of Powered Speakers
2x Green Nanospot Miniature Spot Lights
Jarame's Monster-In-A-Box Prop Completed