Create life-like movement of motors or lighting effects

Two Trigger Inputs

Up to 85 Seconds of Animation Per Input

1x 12V 7.5Amp Output

No Audio Features

Can stop parking motors at the park position

Power Supply Sold Separately

The PicoVolt allows you to precisely control the speed and direction of a DC motor or Linear Actuator. Keep the motor at any constant speed, or create up to two animations you can loop or play from trigger inputs. It can also be used to loop or trigger simple lighting effects on low voltage DC lights or LEDs.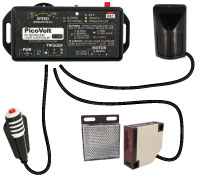 Two Trigger Inputs
Record up to 85 seconds of motor or light animation per input. Connect the inputs to any standard sensor, button, or switch, and the PicoVolt will play your animation back on command.
Having the second input is especially useful for Linear Actuators. One input could be used to raise the actuator, another to lower it. It's also useful in Escape Room applications, you can set it up so one input is triggered by a sensor in the room and the other input is a hidden reset button used to reset the prop.
Of course simply looping animation for an ambient prop is still possible. If desired, the second input could be used to interrupt or pause the ambient animation.
Motor Parking
The PicoVolt can read the internal park switch of many wiper motors to determine its home position. The PicoVolt can then bring your motor back to that position at the end of the animation. It can let it coast to a stop, or stop it instantly using the brake output mode. Make sure your motor has a park wire if you want to use this option.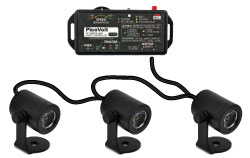 LED Lighting Control
The PicoVolt also has an LED lighting mode that allows you to easily program any lighting effect. Loop the effect, or play it only when triggered.
Escape Room Friendly
The new PicoVolt is Escape Room ready. It can be setup so it only runs once per game, maybe to open a door or secret compartment when a certain puzzle is solved. The second input can be used to reset it, closing the door and allowing it to be triggered again.
If you don't need or want to worry about resetting it, you can bypass the reset input and the PicoVolt will operate in a single-shot mode. In this mode it only runs the animation once per trigger. For example, you might want some animation to run when a sensor detects an object is moved, but only once. The single-shot mode prevents looping and automatically re-arms the trigger once the object is replaced.
Input Modes
The PicoVolt has five different input modes. The modes allow you to set inputs as interruptible, to only run once, or so they work with normally-closed triggers. Some modes are good for haunt applications, some for escape rooms, and some for generic applications.
A brief description of each input mode is shown below.
Default - Both inputs are normally-open and not interruptible.
Input 2 Interruptible - Input 2 is interruptible by input 1.
Inputs 1 & 2 Interruptible - Both inputs are interruptible by the other.
Run Once with Reset - Input 1 is single-shot and can only run once until input 2 is pulsed to reset. Input 2 can be jumpered so the manual reset is not necessary.
Run Once with Reset Normally-Closed - Same as above except for use with normally-closed sensors.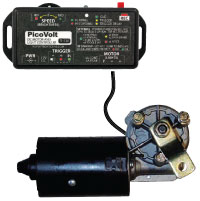 Output Modes
The PicoVolt has five different output modes. The output behaves slightly different in each mode.
A brief description of each output mode is shown below. See the Quick Start at the bottom of the page for more information.
Default - Use this mode to control the speed and direction of a DC Motor or Linear Actuator.
Transition - Same as above except with gentle transitions at the beginning and end of each scene to prevent abrupt movements.
Park - Use this mode with a parking motor to always start and stop in the same position.
Park / Brake - Same as Park except the motor will be stopped quickly instead of allowed to coast to a stop.
Light Mode - For controlling low voltage bulbs or LEDs.
Power Supply
The PicoVolt must be powered by a 9 to 24 volt DC power supply. That said most applications will be using 12 volt motors or LEDs so 12 volts is by far the most popular.
The wattage you need depends on what you're controlling. Pretty much all wiper motor applications will require at least the 12vDC 5 Amp Power Supply. Most linear actuators will require a 10 amp power supply. Some LED setups will be fine with the 12 watt supply, however larger ones may need more. Add up the wattage of all your LED lights and make sure the power supply you choose has a wattage at least that high.

Write-Protection
The PicoVolt has a write protection mechanism that helps prevent accidental or unwanted program changes.
Please Note
A power supply is not included. We suggest our 12vDC 5amp Regulated Power Supply for LED and wiper motor applications. For Linear Actuators we suggest our 12vDC 10amp Power Supply.
The PicoVolt is not meant for extremely precise applications. All motors have some degree of "drift" and you may notice some variation in your program over time. This is normal.
Customer Questions
Is it possible to trigger this controller with a wireless remote from Home Depot?
NO! Motions sensors from the hardware store are 120V AC and will burn up the controller. Only 12VDC trigger devices must be used with the controllers.
Can the PicoVolt be used with any wiper motor?
Yes, as long as the motor is 12V DC.
Is there a way to loop the program?
Yes, you simply connect a short jumper wire between (-) and (IN).
After the PicoBoo is triggered and running animation, will another trigger during the animation restart the animation?
No, the program will run to completion.
How do I make it continuously play without having to trigger it?
Simply connect a short jumper wire between (-) and (IN) and it will play the program continuously.
My parking motor has two parking wires (black and yellow), which do I use with the PicoVolt controller?
When using our parking motor with the PicoVolt use the yellow wire and ignore the black.
Can I run two high torque parking motors with this controller if I use a 12VDC 10 amp power supply?
No, the PicoVolt can only handle up to 3 amps which is about as much as one of our prop motors requires.
is there a way to hook up a Linear Actuators to this?
Yes, the PicoVolt supports Linear Actuators.
Can I run a PicoBoo from a battery?
Can you run solenoids from this?
No, solenoids should never be connected to the PicoVolt.
Can I have the recorded program run and repeat indefinitely without needing to be triggered each time?
Quick Look at New 2017 PicoVolt Features
PicoVolt: An Introduction
PicoVolt: Transition Mode
PicoVolt: Park Mode
PicoVolt: Linear Actuator / Two Triggers
PicoVolt: Light Mode
Parking Motor and Picovolt Controller Demonstration
Video 1
Video 1