The easiest, brightest, most durable monster eyes on the market! Bring your props, masks or costume to the next level! Choose either standard power supply or battery pack.

Monster Eyes feature the industry's smallest, toughest, and most optically pure miniature spotlights! Made from extremely tough polycarbonate and custom designed LED's that produce pure colors with no halos!
Integrated swivel mount allows for easy adjustments and endless mounting possibilities
Available in 6 different colors; Cool White, Warm White, Amber, Blue, Green, and Red.
Comes with a 5 foot cord that contains positive and negative wires to attach to a regulated 12V DC power supply
The Nano Spots require a 12V power supply. We offer power supplies that can power up to 14 , 60 and even more Nano Spots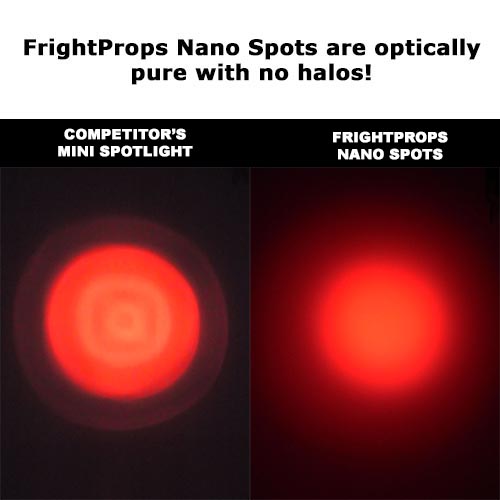 Customer Questions
Can these be out in the weather?
Yes, but they must be protected from moisture.
Is there a way to make the nano spotlights blink?
What are the dimensions of these lights?
The lights are small 5mm Nano Spot LED's.
There are currently no specific videos for this product. Visit our
YouTube channel
for many great videos.