Using CO2 with Pneumatic Props
CO2 is a good alternative when an air compressor is not available such as in remote locations out in the field for hay rides or with untethered costumes.  At 70 degrees F, CO2 obtains a gas pressure of 852 psi when confined in a tank.  Most pneumatic props only require less than 80 psi to operate (and usually any higher than 100 psi will damage the prop)  So special regulators are required to bring the CO2 pressure down to a usable range.
Proper eyewear, gloves, and clothing and safety procedures should be followed when working with CO2 due to the extreme pressure and sub-zero temperatures.  It is beyond the scope of this document to spell out these procedures and so your local supplier of CO2 should be consulted before working with it.
USING LARGE CO2 TANKS
Large CO2 tanks can be rented from local welding and gas supply stores.  You can attach one of our "CO2 Tank to pneumatic prop regulators" directly to the tank to bring the psi down to the 0 to 160 psi range.  You can also use these large tanks to fill small tanks (explained further down).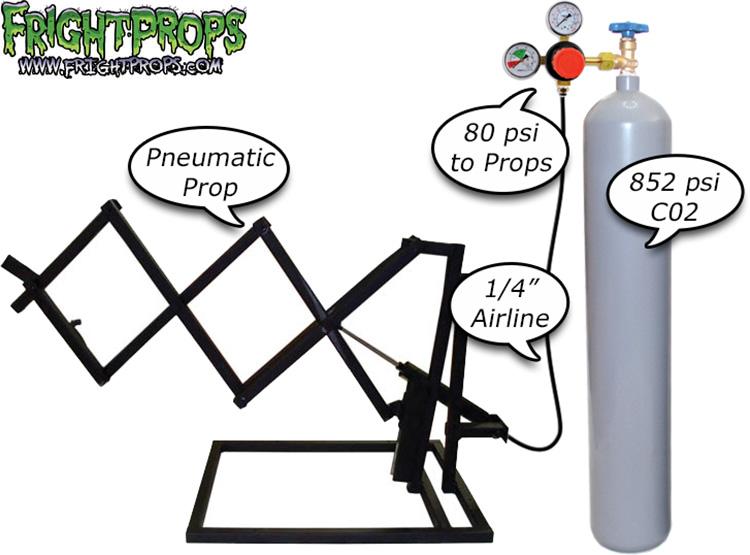 USING SMALL PAINTBALL CO2 TANKS
Small CO2 tanks designed for paintball are great for powering single props and for use in costumes.  Just like the large tanks, these require a special regulator ("Paintball Tank to pneumatic prop regulator") to bring the pressure down to an acceptable level.
A small 20 ounce paintball tank can potentially power a small pneumatic prop for up to 12 hours off of one fill.  You can fill the small tanks from large ones using our "CO2 Fill Station".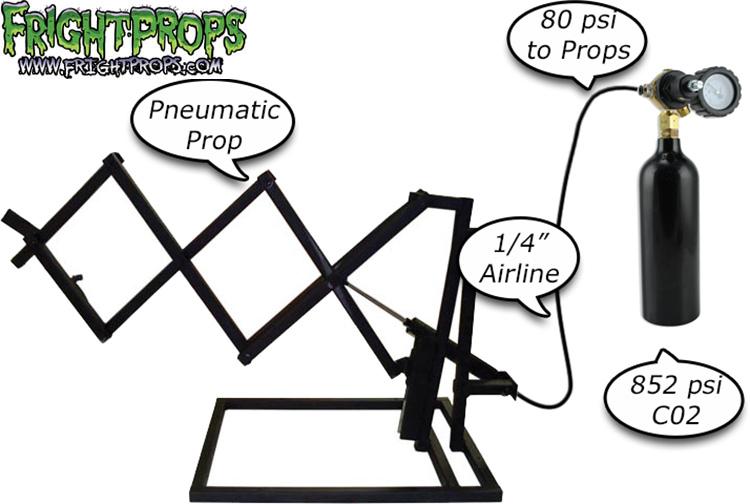 FILLING SMALL CO2 TANKS FROM LARGE ONES
The small paintball tanks can be filled from the large ones by using our "CO2 Fill Station"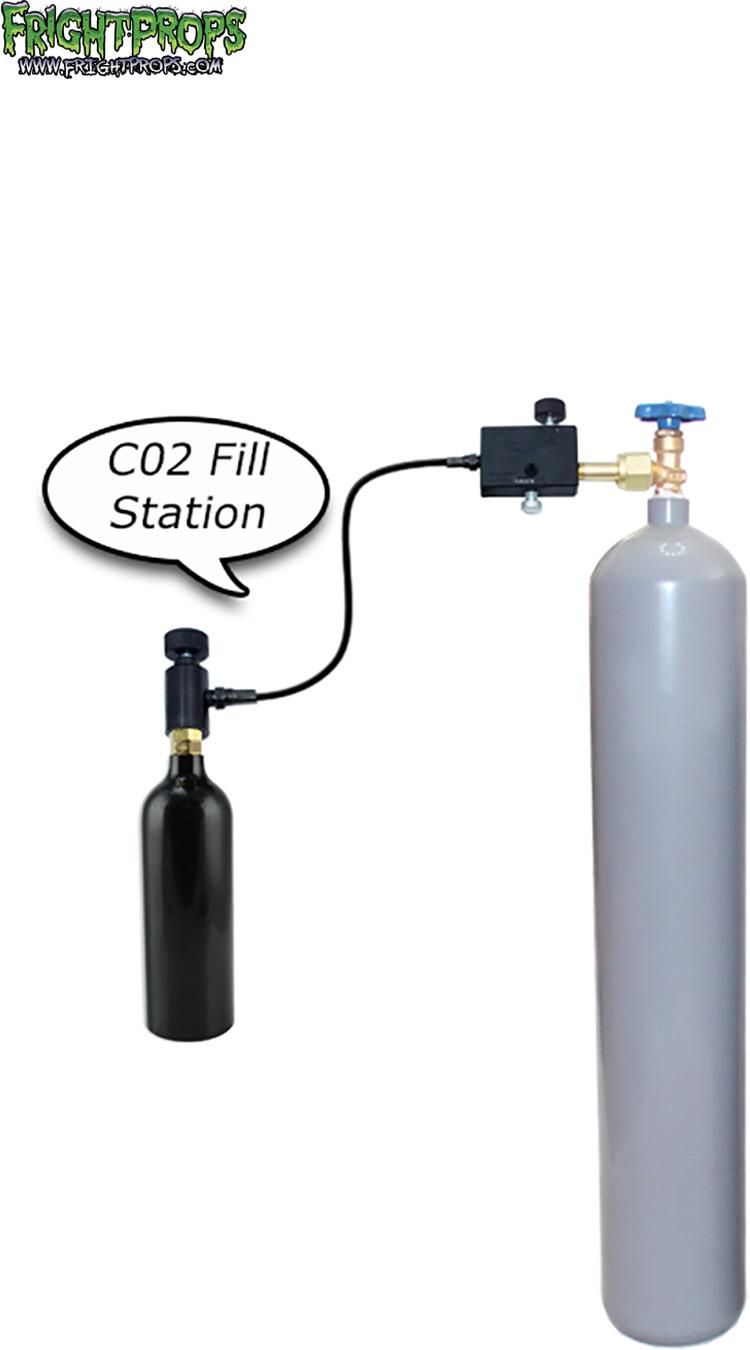 COPYRIGHT © FRIGHTPROPS, LLC. PLEASE CONTACT US IF YOU WOULD LIKE TO REPRODUCE OR REPUBLISH PORTIONS OF THIS DOCUMENT. THE USER ACKNOWLEDGES AND WARRANTS THAT IT BEARS FULL AND COMPLETE RESPONSIBILITY AND LIABILITY FOR THE FINAL DESIGN OF ANYTHING THAT INCORPORATES THE PURCHASED PRODUCTS, INCLUDING FULL AND COMPLETE RESPONSIBILITY AND LIABILITY FOR THE PROPER AND SAFE INSTALLATION, OPERATION, AND MAINTENANCE OF THESE PURCHASED PRODUCT(S).
WARNING: HYDRAULIC AND PNEUMATIC POWER SYSTEMS CAN FAIL THROUGH MISUSE, AGE OR MALFUNCTION. THE SYSTEM DESIGNER IS WARNED TO CONSIDER THE FAILURE MODES OF ALL COMPONENTS USED IN THE DESIGN AND ENGINEERING OF ALL SYSTEMS AND TO PROVIDE ADEQUATE SAFEGUARDS TO PREVENT PERSONAL INJURY OR DAMAGE TO EQUIPMENT IN THE EVENT OF SUCH FAILURES