FrightProps offers the most effective pneumatic exhaust silencer in the industry. These silencers not only quiet the exhaust air but they lower the sound pitch which makes them friendly to the human ear.
These silencers utilize alternating layers of foam and mesh. This means that they also resist plugging from contamination due to the fact that they flex when pressurized.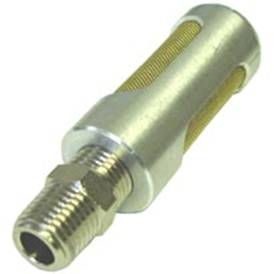 Silencer with 1/4 threads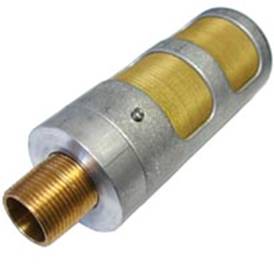 Silencer with 3/4 threads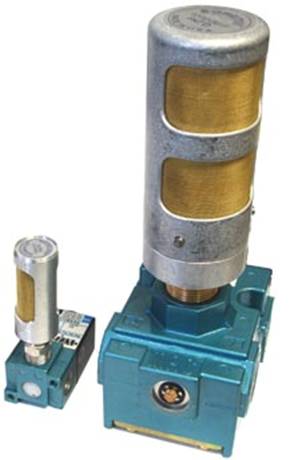 1/4 and 3/4 Silencers mounted on solenoids. This illustrates the size difference between the two.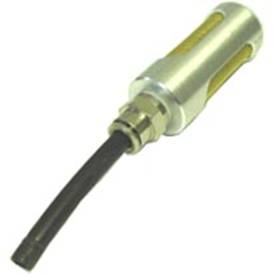 You can remove the nipple that comes with the silencer and screw in any correct sized fitting such as our Male Connector Push-On Fitting shown here.
COPYRIGHT © FRIGHTPROPS, LLC. PLEASE CONTACT US IF YOU WOULD LIKE TO REPRODUCE OR REPUBLISH PORTIONS OF THIS DOCUMENT. THE USER ACKNOWLEDGES AND WARRANTS THAT IT BEARS FULL AND COMPLETE RESPONSIBILITY AND LIABILITY FOR THE FINAL DESIGN OF ANYTHING THAT INCORPORATES THE PURCHASED PRODUCTS, INCLUDING FULL AND COMPLETE RESPONSIBILITY AND LIABILITY FOR THE PROPER AND SAFE INSTALLATION, OPERATION, AND MAINTENANCE OF THESE PURCHASED PRODUCT(S).
WARNING: HYDRAULIC AND PNEUMATIC POWER SYSTEMS CAN FAIL THROUGH MISUSE, AGE OR MALFUNCTION. THE SYSTEM DESIGNER IS WARNED TO CONSIDER THE FAILURE MODES OF ALL COMPONENTS USED IN THE DESIGN AND ENGINEERING OF ALL SYSTEMS AND TO PROVIDE ADEQUATE SAFEGUARDS TO PREVENT PERSONAL INJURY OR DAMAGE TO EQUIPMENT IN THE EVENT OF SUCH FAILURES