Motor drift when using the PicoVolt controller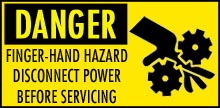 The PicoVolt is not meant for extremely precise applications. All motors have some degree of "drift" and you may notice some variation in your program over time. This is normal.
For example; You program a prop head to look left and then right with the PicoVolt. The head will eventually be looking backwards due to motor drift. This is because there is no feedback to the PicoVolt from the motor to tell it that it is "home". The motor and controller simply do not posses this ability. The PicoVolt tells the motor to stop but the motor takes a bit to actually stop.
COPYRIGHT © FRIGHTPROPS, LLC. PLEASE CONTACT US IF YOU WOULD LIKE TO REPRODUCE OR REPUBLISH PORTIONS OF THIS DOCUMENT. THE USER ACKNOWLEDGES AND WARRANTS THAT IT BEARS FULL AND COMPLETE RESPONSIBILITY AND LIABILITY FOR THE FINAL DESIGN OF ANYTHING THAT INCORPORATES THE PURCHASED PRODUCTS, INCLUDING FULL AND COMPLETE RESPONSIBILITY AND LIABILITY FOR THE PROPER AND SAFE INSTALLATION, OPERATION, AND MAINTENANCE OF THESE PURCHASED PRODUCT(S).
WARNING: HYDRAULIC AND PNEUMATIC POWER SYSTEMS CAN FAIL THROUGH MISUSE, AGE OR MALFUNCTION. THE SYSTEM DESIGNER IS WARNED TO CONSIDER THE FAILURE MODES OF ALL COMPONENTS USED IN THE DESIGN AND ENGINEERING OF ALL SYSTEMS AND TO PROVIDE ADEQUATE SAFEGUARDS TO PREVENT PERSONAL INJURY OR DAMAGE TO EQUIPMENT IN THE EVENT OF SUCH FAILURES