Installing a DC Diode for feedback absorption
Solenoids and Large Relays create a lot of interference, this can wreak havoc to nearby electronic devices. If you notice the sound is stopping unexpectedly when controlling one of these devices, this is most likely your problem. The solution depends on whether you are using AC or DC solenoids. For AC solenoids you need touse a capacitor, the best place to install it is as close as possible to the solenoid, if that's not possible thenacross the terminal block may work as well. For DC solenoids you need to use a diode, standard 1N400Xdiodes will work fine, the only place to install these is across the solenoid. See the diagrams below for more information.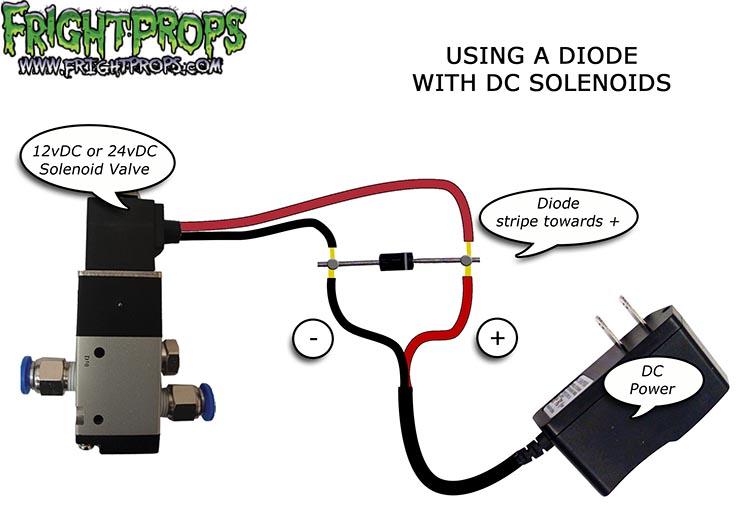 COPYRIGHT © FRIGHTPROPS, LLC. PLEASE CONTACT US IF YOU WOULD LIKE TO REPRODUCE OR REPUBLISH PORTIONS OF THIS DOCUMENT. THE USER ACKNOWLEDGES AND WARRANTS THAT IT BEARS FULL AND COMPLETE RESPONSIBILITY AND LIABILITY FOR THE FINAL DESIGN OF ANYTHING THAT INCORPORATES THE PURCHASED PRODUCTS, INCLUDING FULL AND COMPLETE RESPONSIBILITY AND LIABILITY FOR THE PROPER AND SAFE INSTALLATION, OPERATION, AND MAINTENANCE OF THESE PURCHASED PRODUCT(S).
WARNING: HYDRAULIC AND PNEUMATIC POWER SYSTEMS CAN FAIL THROUGH MISUSE, AGE OR MALFUNCTION. THE SYSTEM DESIGNER IS WARNED TO CONSIDER THE FAILURE MODES OF ALL COMPONENTS USED IN THE DESIGN AND ENGINEERING OF ALL SYSTEMS AND TO PROVIDE ADEQUATE SAFEGUARDS TO PREVENT PERSONAL INJURY OR DAMAGE TO EQUIPMENT IN THE EVENT OF SUCH FAILURES