Directly Activating LED Mini Spotlights with a Motion Sensor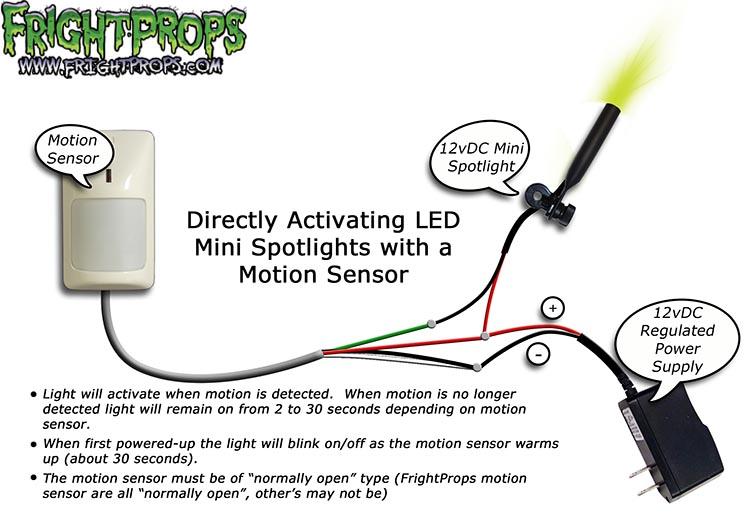 Light will activate when motion is detected.  When motion is no longer detected light will remain on from 2 to 30 seconds depending on motion sensor.
When first powered-up the light will blink on/off as the motion sensor warms up (about 30 seconds).
The motion sensor must be of "normally open" type (FrightProps motion sensor are all "normally open", other's may not be)
A 12vDC 1AMP regulated power supply is sufficient for a few lights.  If you want to run a bunch then you can use a 12vDC 5AMP regulated power supply.  It is important that the power supply is regulated or else the LED will burn out.
COPYRIGHT © FRIGHTPROPS, LLC. PLEASE CONTACT US IF YOU WOULD LIKE TO REPRODUCE OR REPUBLISH PORTIONS OF THIS DOCUMENT. THE USER ACKNOWLEDGES AND WARRANTS THAT IT BEARS FULL AND COMPLETE RESPONSIBILITY AND LIABILITY FOR THE FINAL DESIGN OF ANYTHING THAT INCORPORATES THE PURCHASED PRODUCTS, INCLUDING FULL AND COMPLETE RESPONSIBILITY AND LIABILITY FOR THE PROPER AND SAFE INSTALLATION, OPERATION, AND MAINTENANCE OF THESE PURCHASED PRODUCT(S).
WARNING: HYDRAULIC AND PNEUMATIC POWER SYSTEMS CAN FAIL THROUGH MISUSE, AGE OR MALFUNCTION. THE SYSTEM DESIGNER IS WARNED TO CONSIDER THE FAILURE MODES OF ALL COMPONENTS USED IN THE DESIGN AND ENGINEERING OF ALL SYSTEMS AND TO PROVIDE ADEQUATE SAFEGUARDS TO PREVENT PERSONAL INJURY OR DAMAGE TO EQUIPMENT IN THE EVENT OF SUCH FAILURES