Determining Thread and Airline Sizes
OVERVIEW
All of the cylinders, fittings, and parts we carry indicate the proper thread and airline (tube) sizes to use.
Use the information contained here if you have parts obtained elsewhere and you don't know what the proper thread and airline sizes should be.
THREAD SIZES
Have you ever tried to order a fitting that has pipe thread and had difficulty determining the thread size you need? If so, you're not alone. The reason may be that pipe thread size does not refer to the inside or the outside diameters of the pipe fitting. It refers to an industry designation (NPT - National Pipe Thread), not the actual size.
Listed below are some quick reference charts that we hope will help you to determine which size pipe fitting you need.
VISUALLY DETERMINING THREAD SIZES
Use these thread images when ordering fittings with threads to help determine proper fit: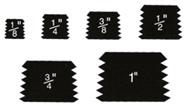 Finding the thread size with a tape measure
To determine the size of pipe fitting thread you need, first use a tape measure or scale to measure the inside diameter (ID) of the threaded hole were you would like to install the fitting or the outside diameter (OD) of your existing fitting as shown below.

After determining your measurement choose the closest ID or OD dimension listed in the chart below and select your pipe thread size. (Dimensions shown are approximate values and you may need to round up to the closest value).
If your tape measure shows the top (yellow) measurement then you need to order the measurement in the bottom (purple) area . . .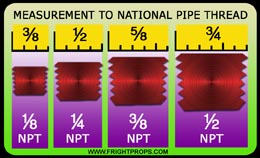 AIRLINE / TUBE SIZES
Airline / Tube sizes correspond to actual measurements. Measure the OD (Outside Diameter) of the airline / tube to get the size.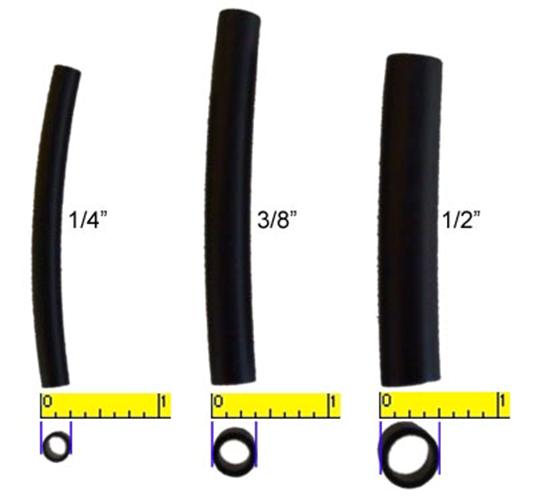 COPYRIGHT © FRIGHTPROPS, LLC. PLEASE CONTACT US IF YOU WOULD LIKE TO REPRODUCE OR REPUBLISH PORTIONS OF THIS DOCUMENT. THE USER ACKNOWLEDGES AND WARRANTS THAT IT BEARS FULL AND COMPLETE RESPONSIBILITY AND LIABILITY FOR THE FINAL DESIGN OF ANYTHING THAT INCORPORATES THE PURCHASED PRODUCTS, INCLUDING FULL AND COMPLETE RESPONSIBILITY AND LIABILITY FOR THE PROPER AND SAFE INSTALLATION, OPERATION, AND MAINTENANCE OF THESE PURCHASED PRODUCT(S).
WARNING: HYDRAULIC AND PNEUMATIC POWER SYSTEMS CAN FAIL THROUGH MISUSE, AGE OR MALFUNCTION. THE SYSTEM DESIGNER IS WARNED TO CONSIDER THE FAILURE MODES OF ALL COMPONENTS USED IN THE DESIGN AND ENGINEERING OF ALL SYSTEMS AND TO PROVIDE ADEQUATE SAFEGUARDS TO PREVENT PERSONAL INJURY OR DAMAGE TO EQUIPMENT IN THE EVENT OF SUCH FAILURES