Aim the Laser Escape Room Puzzle
Players must aim the laser into the sensor to open the included magnetic lock. Simply require players to aim the laser at a designated spot to solve the puzzle, or task them with using mirrors to reflect the laser beam around corners! Once the laser hits the target (the included sensor), it will open the magnetic lock, releasing a door, drawer or locked container.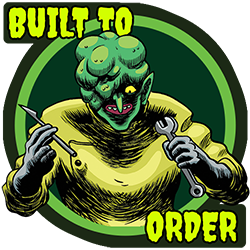 This product is built when ordered and can sometimes take several days or weeks to ship. Please contact us if you require an exact ship date.
NOTE: Caution must be taken to protect players' eyes. Also, all lasers are subject to burnout if left on for an extended period of time. It is advisable to only run any laser for a short period before allowing it to rest and cool down. Lasers create heat, and leaving a laser pointed at a target for too long will damage the laser and also damage the target, and could cause a fire hazard!
Prop Includes:
BooBox Flex Controller
Laser Emitter with mountable positioning bracket
Laser Sensor
Optional Magnetic Lock
All necessary power supplies
Customer Questions
Do you sell just the laser without the receptor?
What type of laser does the aimer use?
Two choices: /lighting/lasers/high-powered-laser-emitter-with-stand-red.html /lighting/lasers/high-powered-laser-emitter-with-stand-green.html