An electric solution for a popular illusion! This mech opens and closes a lid. Will open and close lid repeatedly, or, with optional PicoVolt controller, lid can remain closed until the trigger is activated, then open and close.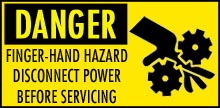 Easily attach to any box, coffin or barrel and the mech opens and closes the lid! Attach a prop head to the inside of the box lid and it will appear to pop out of the box!
Comes complete with...
The FrightProps High-Torque Dual Speed Prop Motor
High-Amperage Power supply
Power supply adapter
Shaft arm with 6" connector shaft (can be cut with hacksaw to accommodate different openings)
Inverted Mounting Bracket for Motor
Mounting Bracket for Lid
Optional Controller
Optional Trigger

Will run at a constant speed and direction when plugged in. Use the optional PicoVolt controller for speed and direction control.

Looking to have a lid open when triggered and stay open? We suggest a linear actuator for that!
Customer Questions
What is the maximum weight it will lift?
Can these motors be run right from a 12V car battery?
Yes, they work great from a 12V DC car or motorcycle type battery.
Electric Lid Opener Demo
Video 1