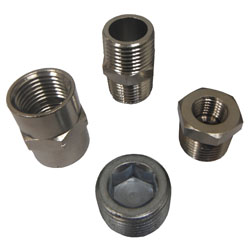 Threaded Nipples, Plugs, Couplings, Reducers, Elbows, and Tees.
Have you ever tried to order a fitting that has pipe thread and had difficulty determining the thread size you need? If so, you're not alone! It is very common for people to order the wrong sized threads and so we have created a document on
how to select proper thread sizes
. Please read that before ordering any fittings that contain threads.