Lanterns are very versatile devices. They fit well into western themes, caves, woods, cemeteries and rural scenes, or anywhere that electricity in theory might not be available for your scenario. To meet those needs, Lights Alive has developed a line of lanterns, and designed a family of new micro flicker units to drive the lanterns as well as for other uses. The realism of our new lanterns means no more filling oil lamps, cleaning, or trimming of wicks.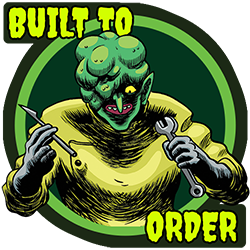 This product is built when ordered and can sometimes take several days or weeks to ship. Please contact us if you require an exact ship date.
By default, units come with 10' of low voltage wire, which can be attached to a 12v (or 110v AC, depending on selection) power source. In order to make the lantern portable, you can select the Make it Mobile option above
We've combined our new microFLICKER units with genuine oil lamps, to make a high-quality and high-realism lantern. These aren't your cheap TV lanterns, but are steel. Units are available to run on 12 volts DC or AC, 120 volts AC, or, for use by an actor, our lanterns can be powered by an internal rechargeable battery pack capable of operating the lantern for a full evening of haunting. All units use a single control to adjust the flicker speed, depth, and intensity to your desired look.
Standard units are black with a frosted glass globe, and incorporate either our low voltage or our AC microFLICKER. As an option, lanterns are available aged, and with simulated or genuine rust finishes. Each lantern is individually antiqued (rusted). No two are the same. Special order units can be heavily rusted or just slightly rusted. They can also be distressed (dinged and banged) if desired.
Options include the portability package, with a rechargeable internal battery, custom charger manager, power supply, and LED bulb. This configuration can run without wires for up to 122 hours at minimum intensity, or 30 hours at full intensity. The specialty LED bulb, containing 15 surface mount LEDs covering a full 360º, is also available as an option for standard units. The LEDs are warm white with an additional gel filter to create a realistic color.
Select a lantern, above, in either low-voltage or AC flicker unit. Then select any options desired, such as custom aging and real rust, a rust-colored finish, and/or an internal rechargeable battery and LED bulb. (Note the battery pack is only available with low-voltage lanterns.)
Customer Questions
What are sizes of the standard and large lanterns?
The standard lantern is 15" tall and the base is 7-3/4". The larger one is 14-3/4" tall, but it is 8-7/8" in diameter at the base.
Is the battery pack inside the lantern or is it outside (another unit?)
If you select the battery pack option, then yes it is located inside the unit. If you do not select the battery option then it comes with a power cord and must be plugged in at all times.
There are currently no specific videos for this product. Visit our
YouTube channel
for many great videos.