Flickering Fluorescent Lights (simulated)
Freaky flickering "fluorescent lights" set the scene! Newly redesigned units run off of 2 PicoBoo ONE controllers. Lights will flicker on and off as long as unit is plugged in. You can select a trigger if you want the lights to activate only at specific times.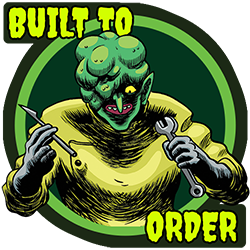 This product is built when ordered and can sometimes take several days or weeks to ship. Please contact us if you require an exact ship date.
Normal fluorescent lights burn out when rapidly powered on and off. The Fright Lights simulated fluorescent lights flicker on and off at random. Unlike real florescent lights these lights last for over 100,000 hours.
Complete 4 foot long unit with two simulated fluorescent lights and hanging chains
Prop measures 6" Tall, 5" Wide, 48" Deep
Comes standard with two PicoBoo ONE controllers set to loop. You can add an optional motion sensor or other trigger to activate when someone is near.
Customer Questions
If I do not want to use a trigger and just have the fluorescent light continuously flash on/off, is this set up the one I need? Does it have the standard 110v plug in?
The lights are 12V DC and come with a power supply – so it can be plugged right in and it will turn on. You would need the controller option in order to make them blink / flash.