Electronic Firecrackers Important Information
Please Read Before Purchasing Firecrackers
Please be advised that these are novelty products that have a limited life span. The intense burst of sound and light they release is created at the expense of various internal components. Longevity varies greatly depending on usage patterns and environmental conditions. If your event requires many hours of continuous use we suggest you purchase multiple units as back up as they will wear out sooner or later. To extend life only run for a few seconds at a time and allow to cool down.
All "Electronic Firecracker" product returns must be made within 10 days of receipt of product.
Safety Information for Firecrackers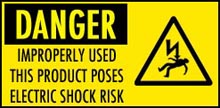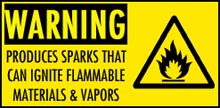 FrightProps, LLC has no control over the use of any product and therefore expects the user to exercise good judgment as to the proper selection, installation, use and maintenance of any product. FrightProps, LLC assumes no responsibility for damage or injury of any kind due to misuse or improper application in any way by any person. The warnings, precautions, and instructions discussed here cannot cover all possible conditions and situations that may occur. It must be understood by the operator that common sense and caution are factors which cannot be built into this product, but must be supplied by the operator.
KEEP CHILDREN AWAY FROM THIS PRODUCT. DO NOT ALLOW THEM TO PLAY WITH OR AROUND THIS PRODUCT
NEVER POINT DIRECTLY AT EARS. MISUSE MAY LEAD TO HEARING DAMAGE
KEEP AWAY FROM WATER AND WET LOCATIONS
KEEP HANDS AND FINGERS CLEAR FROM THE AREA THAT PRODUCES SPARKS
THESE PRODUCTS PRODUCE AN ELECTRONIC SPARK THAT HAVE THE POTENTIAL TO IGNITE FLAMMABLE SUBSTANCES
ONLY TO BE RUN FOR BURSTS OF A FEW SECONDS AT A TIME, DO NOT LEAVE ON!
DO NOT REMOVE THE CABLE THAT CONTAINS THE POWER SWITCH AS IT CONTAINS A THERMAL OVERLOAD PROTECTION CIRCUIT
More information on our Electronic Firecarackers can be found in our Support and Training Center.