Rocks an item forwards and backwards.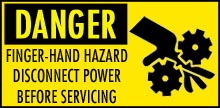 The FrighProps Rocking Mech is designed to be placed behind a prop in a rocking chair to create a rocking animation. Use with practically any chair and any prop!
Comes complete with...
Welded heavy-duty steel mech
High Torque Prop Motor installed
12v5amp power supply
Plug it in and it goes!
Customer Questions
Can these motors be run right from a 12V car battery?
Yes, they work great from a 12V DC car or motorcycle type battery.
Can these motors be ran off of a PicoBoo Plus or JR?
Yes! Like this: /faq/content/5/133/en/control-a-12vdc-motor-from-a-picoboo.html