Vibrating Floor (Complete)
Our vibrating floor is designed for use in haunted house hallways. Vibrates like crazy! Complete and ready to go.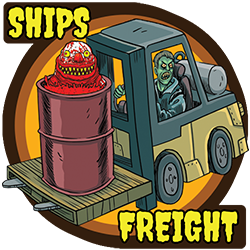 This item must ship truck freight. We will contact you with more information after your order has been placed.
Floor measures: 6 foot long X 37 inches X 5 inches high. Ears on sides have the transducers (shakers) mounted to them and bring the total width to 4 feet.

Includes everything you need:



Wood platform with heavy duty rubber feet. Rubber feet provide vibration isolation

2x Transducers (shakers)

1x Transducer amplifier (3000-watt)

Bootunes Audio Player

Low Freak FX tracks allow you to select from several different vibrations

Motion sensor that triggers the floor

All wiring and cable

Entry and exit ramps (for the 5 inch platform height)


Custom sizes available. Contact us for a quote.
Customer Questions
Does this item have different sounds and how long does it take to receive item after being purchased?
The vibrating floor uses a Transducer. The Transducer works by converting audio it is sent into vibration. The product includes the appropriate audio to maximize the vibration. There is no "sound" to be heard. It takes about 2 weeks after you order before we ship.