This rotted zombie was left to hang and slowly decay, but he still hungers for human flesh!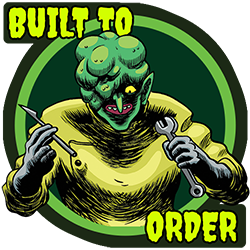 This product is built when ordered and can sometimes take several days or weeks to ship. Please contact us if you require an exact ship date.
As low as $1,299.99 Regular Price $1,599.98
Uses one of our popular talking skulls and comes with speakers and BooTunes MP3 player. Use our standard audio track, or play any audio you want!
Ready to run. Comes with talking skeleton with mouth and eye movement, hanging loop, audio source, custom audio, powered speakers and power supply!
All electric, NO AIR REQUIRED!
MP3 player plays continually or use one of our optional triggers such as a motion sensor, step mat, beam sensor, etc. to activate
The Optional Head Turn provides the ability for the Talking Skull to look left and right while speaking
Note! The Talking Skull used in this prop is designed for seasonal use. If running for extended periods the servos that control the mouth and eyes will need to be periodically replaced.
Customer Questions
is it possible to have this product made with a wireless mic option?
Yes, please contact us for prices.
Product Video
Tradeshow Video