One of our most startling and realistic pieces ever. Body has leather and studded fabric hood, real chains and all metal table. Body thrashes widly and organically. Has 2 adjustable settings for twitching and kicking motions. Includes tape player, tape an
Please note:

SHIPS FREE to most of USA!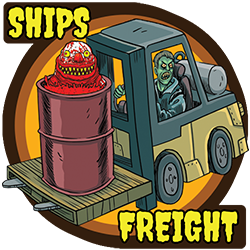 This item must ship truck freight. We will contact you with more information after your order has been placed.

Good news, this item has free shipping to USA addresses!
One of our most startling and realistic pieces ever. Body has leather and studded fabric hood, real chains and all metal table. Body thrashes widly and organically. Has 2 adjustable settings for twitching and kicking motions. Includes tape player, tape an
Material Specifications: Metal, Foam, Latex