Up & Down Mech (Short Throw)
Nice short throw up and down action!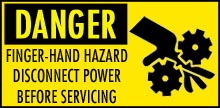 This is a lower profile, shorter stroke version of our up/down mech. It is perfect for making breathing grave props or for when you just want a skull or head to peak over the edge of a grave! Moves up and down about 3 inches.
Comes complete with:
The FrightProps High-Torque Dual Speed Prop Motor
Our High-Amperage 12v5amp Power supply.
Power supply adapter
Mounting Flange
Options:
Use the optional PicoVolt controller for even more control.
The 5v5amp power supply is recommend if you will be making a breathing grave or similar prop so that the motor will run at a slower speed. Please send us an e-mail at the time of order placement to let us know you'd like this power supply instead.
Use our Mech Accessories to extend the shaft length.
Measurements:
Resting height is 11", max height is 14"
Footprint approximately 8" wide and 6" deep
Total stroke is approximately 3"
NOTE: This mech requires lubrication for proper consistent operation. We recommend 3-In-One Oil.
Customer Questions
What are the dimensions of the short throw motor mech?
What the maximum weight is that the 4" throw can move up and down?
This mech can handle a maximum weight of about 5 pounds.
Can these motors be run right from a 12V car battery?
Yes, they work great from a 12V DC car or motorcycle type battery.