Our loudest horn - the same one as on our handheld Tugger Horn! Sounds like a ocean freighter on steroids!
Absolutely incredible sound, these are the loudest air horns around!!!
Lightweight and extremely loud
Durable plastic body
Stainless steel diaphragms
Brass fittings
Requires an air compressor (not included)
90 psi recommended. 150 max psi.

Kits Include:
Black Finish Horn
Solenoid Valve (12v DC)
All standard fitting & mounting hardware
20 ft. of airline tubing
Many trigger and controller options
Staff must wear hearing protection when working near our Train Blasters! Hearing damage will occur with prolonged exposure.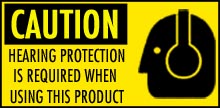 148 DECIBELS!
Customer Questions
What are some good Air Compressors for this product?