A frighteningly realistic latex prop depicting a rat being dissected!
Please note:

This is a preorder and will ship in June/July.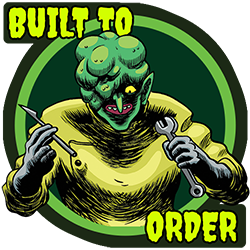 This product is built when ordered and can sometimes take several days or weeks to ship. Please contact us if you require an exact ship date.
As low as $49.99 Regular Price $59.99
NOTE: These are deluxe hand-made props. Each one is hand painted and, as such, paint may varry slightly bewteen individual props.
This prop features realistic organs and anatomy! Perfect for laboratory, serial killer, butcher, or pretty much any scene in a haunted house or horror movie!
Deluxe props include rat prop mounted to foam core with scientific label and pins. Standard versions of the props include only the rat prop (pins are not included).
This is a flat-backed latex prop that has been sculpted, molded, cast, and painted 100% by hand in the FrightProps Horror Prop Factory! Available exclusively from FrightProps in limited quantities!
Rat measures 11" long x 5" wide.