A new revolutionary take on a Haunted House must-have! Made from a real chainsaw and louder than the real deal!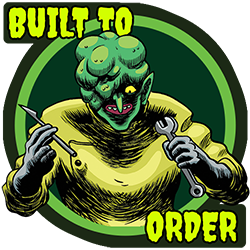 This product is built when ordered and can sometimes take several days or weeks to ship. Please contact us if you require an exact ship date.
From $1,366.39
To $1,411.39
You will not believe how LOUD this incredible chainsaw prop is! We take a real chainsaw, remove the engine and replace it with good old FrightProps ingenuity! This thing is so loud it actually rumbles in your hands! Idling motor sound plays until the trigger button on the handle is pressed and, then all hell breaks loose. A revving chainsaw noise plays at a volume so deafening you need to hear it to believe it! This is no rinky-dink Halloween toy. It is a serious chainsaw prop that will replace your traditional chainsaw. No more gas, no more mess, no more break-downs and you can use it anywhere!
Includes portable battery pack, rechargeable battery, and battery charger. Chainsaw itself weighs 9lbs.
The blade is steel, extremely durable and measures 26" long by 3" wide.
Customer Questions
Does this FrightSaw product come with a battery and how long will it last?
It comes with one battery and charger. The battery charge will last 2 to 4 hours. You can also purchase additional batteries on the product page.
I would like to have no sound with the chain saw until I jump out, can idle sound be turned off?
Yes, the idle sounds can be turned off.
Can the volume be adjusted?
Yes, the volume can be adjusted.
Is the battery located inside the saw or is it remote?
The battery is located in a fanny pack outside of the saw.