The result of scientific experimentation gone too far!
Please note:

This is a preorder and will ship in June/July.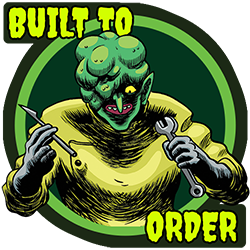 This product is built when ordered and can sometimes take several days or weeks to ship. Please contact us if you require an exact ship date.
NOTE: These are deluxe hand-made props. Each one is hand painted and, as such, paint may varry slightly bewteen individual props.
Rotting baby head, hands, and feet have been crudely sewn onto the body of a pig to create an unseemly abomination!
This large prop measures over 30" long and 15" wide at its widest point.
This is a flat-backed latex prop that has been sculpted, molded, cast, and painted 100% by hand in the FrightProps Horror Prop Factory! Available exclusively from FrightProps in limited quantities!