Siamese Talkin' - Rockin' Skeleton
Conjoined skeleton rocks back and forth in rocking chair as eyes and jaw move while both heads talk!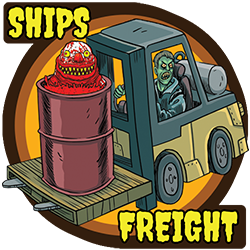 This item must ship truck freight. We will contact you with more information after your order has been placed.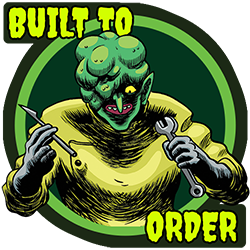 This product is built when ordered and can sometimes take several days or weeks to ship. Please contact us if you require an exact ship date.
You've never seen anything like this! Unnatural conjoined mutant skeleton freak rocks back and forth in a chair while the two heads talk to each other! Jaws and eyes of both heads move in sync to audio. The very definition of creepy! Includes two of our extremely popular talking skulls, custom recorded audio, rocking mechanism, chair, BooTunes MP3 player, speakers, cables and speed controller. You can easily record your own custom audio and have the skeletons talk along to it. Use them to read your house rules or argue about who gets to feast on the remains of your patrons once the ghouls inside your haunt have had their way.
Ready to run. Comes with talking skeleton with mouth and eye movement, rocking chair, audio source, custom audio, rocking mech, powered speakers and power supply!
All electric, NO AIR REQUIRED!
NEW! Now comes with motor speed controller to precisely control the rocking speed
MP3 player plays continually or use one of our optional triggers such as a motion sensor, step mat, beam sensor, etc. to activate
Note! The Talking Skull used in this prop is designed for seasonal use.  If running for extended periods the servos that control the mouth and eyes will need to be periodically replaced.
Customer Questions
Can I get the Talkin' - Rockin' Skeleton prop with the head turning talking skull?
No. We have found that the head turning skulls easily break if moved while they are turning (too much load when tilted and the head turns back). That is why we do not offer them on this product nor do we recommend it.