The StretchFX Door skin will allow you to create the effect of a door being badly dented and abused by the unseen creature behind it!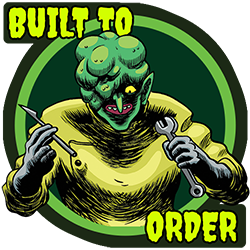 This product is built when ordered and can sometimes take several days or weeks to ship. Please contact us if you require an exact ship date.
A seemingly normal door...that is hiding a nasty secret!
This product listing is for the skin only. You can have an actor push their hands or face into the skin to create the effect of a creature denting the door, or you can use pneumatics to create an automated scare!
Material will always return to its original state. There are multiple door skins to choose from. The skin measures 84" x 36" when framed. Frame not included.
Customer Questions
What temperature can the living wall material be used down to?
StretchFX skins (including Living Wall material) can be used in the cold. We have not done specific temperature tests, however we have plenty of users in the northern states that have not had any problems. The material may get a bit stiffer in the cold but that is about it. It can be used outdoors, as long as it is shielded from direct sunlight, as it is not UV resistant. Direct sunlight will not cause immediate issues, but over time will degrade the material.
Is there a way to make the fabric match the rest of a wall or change the color or appearance of the material?
Yes, it's an extra charge for custom skins...any size we offer from your print-ready artwork image file. Turnaround time is about two weeks. Contact us if interested.
Stretch FX Door
Stretch FX Tradeshow Demo
Product Demo