Motion Platform with 6 Inch Lift
FrightProps custom manufactures scores of motion platforms each year... Our customers use them as the foundation for building amazing simulations such as Hellevators, video based motion rides, moving hallways, space capsules, and so much more... Let us build yours!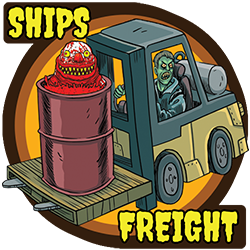 This item must ship truck freight. We will contact you with more information after your order has been placed.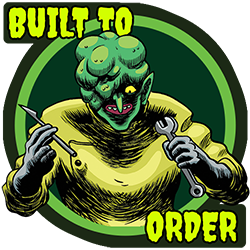 This product is built when ordered and can sometimes take several days or weeks to ship. Please contact us if you require an exact ship date.
From $2,890.00
To $3,578.99
Heavy duty welded all-steel construction. This includes a heavy-duty welded steel frame, 4 or more airbags (depending on size), and a 3/4" plywood deck. Most sizes come fully assembled, large sizes bolt together.
STEP 1: Choose Your Size
Choose from a selection of our most popular sizes or contact us to build your platform to any specifications. We've made them as small as 4'x4' and as large as 16'x30'...so no job is too small or too big!
How to Calculate Square Feet
In order to tell how many square feet your desired platform is, just multiply the length by width. For example, if you want a 4' wide platform that is 6' long, you would order a 24 square foot platform. Make sure to include your desired dimensions in the comments with your order!
STEP 2: Choose Your Plumbing
Choose from either Up/Down Only Control or Up/Down/Left/Right Control for a truly wild ride! With Up/Down Only control, all airbags inflate at the same time. Great for simple jolts or sudden drops. With Up/Down/Left/Right Control each side of the platform is individually controllable, allowing for both vertical and tilting movements. This is perfect for simulating elevator rides, earthquakes, etc...
STEP 3: Choose Your Controller
The controller is the brains behind the operation. This is how you tell the platform when to raise and when to drop. We offer a wide range of controller options for our motion platforms. If you just want your floor to move up and down and don't need any audio, choose the cost-effective PicoBoo JR. Want a fully-featured elevator simulator with audio, lights and more? Check out the god-like BooBox FlexMax.
Click here to see our Controllers.
STEP 4: Choose Your Options
We offer a full range of optional accessories for motion platforms in any application. Add a LFE Transducer for bone-rattling rumble effects. Choose from our variety of custom-built elevator control panels. Or add some immersive audio from our award winning sound library!
We leave the decorating and theming to you. Add walls, seats, or whatever decor you like! Applications Include: Elevators, earthquakes, dive bells, rocket launches, time machines, dinosaur attacks, epic farts or whatever else you can dream up!
Specs
Deck sits 8" off ground level when lowered and raises to a maximum of 14".
Capacity given for each platform is based on a maximum per-person weight of 200 pounds.
Any size above 6' x 6' use 6 or more air bags. Smaller sizes use 4 air bags.
Minimal maintenance is required.
We also offer do it yourself kits.
Building an elevator simulator?
Also check out our...
NOTE: Flat Rate Freight is for domestic shipments to the lower 48 states. International shipments and shipments to Hawaii or Alaska will likely require additional shipping charges.