3/4 Inch Bore Double-Acting Universal Mount Cylinder
Power Factor: .44push / .39pull
Port Size: 1/8" NPT
Shaft Threads: 1/4-28
Mounting Threads: 5/8-18
Easy Code: (D)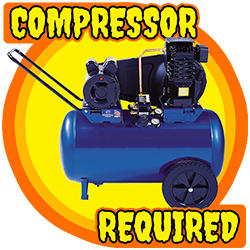 This item requires an Air Compressor. Not included!
Our goal is to make it easy and fun to use pneumatics. If you run into any problems or have any questions check the documents at our
Support & Training
section. You can also
contact us
, we are here to assist you!
Selecting Accessories We have created an easy to use part lettering system to make it easy to locate parts for your cylinder. Locate this cylinder's "Easy Code" (letter) which is located in the specifications section below. Look for that Easy Code next to the cylinder part in the Cylinder Accessories Section of our web site.
Selecting Fittings To locate the correct Fittings with proper sizes for your cylinder locate the Air Port Size in the table below and match the fitting size to that. The most common fittings used to connect air to the cylinder are Male Connector Push-On and Male Swivel Elbow. You can also purchase a Cylinder Hookup Starter Kit which has all of the fittings, airline, and solenoid valve.
Calculating Force To calculate cylinder force take the Power Factor (push or pull) located in the specifications section below. Multiply by the amount of air pressure (psi) that you will be supplying to the cylinder. For example; If the Power Factor: Push = .44 and the pressure = 100psi then the push force of the cylinder will be 44 pounds of force (.44 * 100 = 44).
More Options Available We have many additional options for these cylinders. Some of these include; internal bumpers (for noise reduction), rotated air ports, embedded pivot pin (brass pivot bushing is standard), flouresoelastomer seals (for superior chemical resistance), magnet for sensing switch. Please contact us if you require any of these special options.
Specifications

Action: Power Out / Power In
Power Factor: .44push / .39pull
Port Size: 1/8" NPT
Shaft Threads: 1/4-28
Mounting Threads: 5/8-18
Mounting Location: Top and bottom
Easy Code: (D)
Customer Questions
What is the overall length of a cylinder?
Can I spray paint the pneumatic cylinders?
Yes, all parts of the cylinder except for the shaft can be painted. Be very careful not to get any paint on the shaft as it will effect performance!
Can these cylinders be used under water?