Paranormal Portraits: Gore-Traits - Vol. 1
SKU
HR-PP-GORETRAITS-VOL1
After the hugely successful releases of Paranormal Portraits Vol. 1 + Vol. 2, Hi-Rez Designs pleased to bring you "Paranormal Portraits: Gore-Traits - Vol. 1". Unlike previous "Paranormal Portraits" editions, Gore-Traits is an all-new series that features truly gruesome and "gory" living portrait murders.
Please note:

After purchase please allow up to 72-hours for download codes to be e-mailed to you.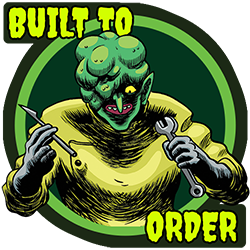 This product is built when ordered and can sometimes take several days or weeks to ship. Please contact us if you require an exact ship date.
Paranormal Portraits: Gore-Traits - Vol. 1 features a seemingly happy "husband and wife" in a picturesque moment. Suddenly the husband comes to life, takes a step back, raising a double-barreled shotgun, puts it to the back of his wife's head, and blows her brains out through the front of her face. After all, prior to the photo being taken, they had had a disagreement, and she was wrong … TWICE!
PRODUCT FEATURES / SPECIFICATIONS:
HOLLYWOOD-QUALITY SPECIAL VISUAL EFFECTS
'EXTRA BLOODY' SPECIAL LIMITED EDITION
CW OR CCW PORTRAIT MODE IMAGE ROTATION
TRIGGERED OR LOOPING PLAYBACK
LOOP DELAY SELECT: 30 SEC, 1 OR 2 MINS
PROGRESSIVE SCAN TECHNOLOGY PLAYBACK
OPTIMIZED FOR LCD / LED MONITORS
16x9 WIDESCREEN FORMAT
DIGITAL STEREO SOUNDTRACK
SHOT & MASTERED IN 2K-HD HIGH-DEFINITION
AVAILABLE IN DVD & 1080P HD VERSIONS
STANDARD DVD VERSION: INCLUDES: Standard definition DVD
HD FILE VERSION: INCLUDES: [HD] High-Definition 1920 x 1080P file versions
------
All video, audio, and imagery © 2012 Hi-Rez Designs. All Rights Reserved. No unauthorized duplication of this DVD / HD video or any part of it.
All commercial use or duplication of this copyrighted material without prior licensing is forbidden by Federal Law. Violators will be prosecuted.
------
All Hi-Rez Designs Visual FX DVD products are restricted to non-profit HOME HAUNT & PERSONAL USE ONLY, and are protected by all federal copyright laws.
If you wish to use this any Hi-Rez Designs Visual FX DVD products as part of a PRO / PAID HAUNTED ATTRACTION that charges admission, you must also purchase a COMMERCIAL USE LICENSE.
If you have questions or would like to purchase a commercial license for using Hi-Rez Designs Visual FX DVDs as part of your paid admission or pro haunt, please email us at: info@hi-rezdesigns.com.
Federal Law provides civil and criminal penalties for the unauthorized reproduction, distribution, or exhibition of the copyrighted material of this product.
Customer Questions
How water proof if this prop if put outside in a front yard?
This prop is not at all "water proof" and must be protected from moisture. Many people use them outside and cover or bring inside when there is inclement weather.
We are a nonprofit charity that puts on a haunt. Are we required to purchase a commercial license?