50 Nano Spots in your choice of colors!

From $387.50 Regular Price $399.50
To $599.09 Regular Price $617.64
The industry's smallest, toughest, and most optically pure miniature spotlight! Made from extremely tough polycarbonate and custom designed LED's that produce pure colors with no halos! These tiny spotlights are perfect for illuminating specific objects in the dark without lighting the entire room. Keep those dark rooms dark while still illuminating creepy things lurking in the shadows!
Integrated swivel mount allows for easy adjustments and endless mounting possibilities
Available in 6 different colors; Cool White, Warm White, Amber, Blue, Green, and Red.
Comes with a 15" cord that contains positive and negative wires to attach to a regulated 12V DC power supply
The Nano Spots require a 12V power supply. We offer power supplies that can power up to 14 , 60 and even more Nano Spots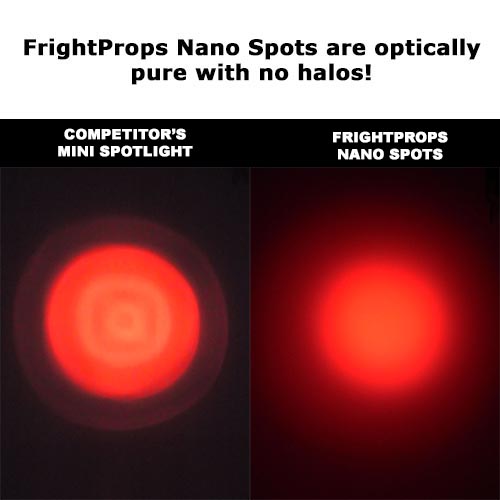 Customer Questions
How many of the the Nano's can you run off of a 12v DC 2.0A power supply?
What is the approximate color temperature of the warm white, and the cool white Nano?
Approximately 3000k for warm and 6500k for cool.
Are the nano's PWM dimmable?
What is the approximate expected Lamp Life of the Nanos (in hours)?
Approximately 50,000 hours.
What is the I.P. Rating for the Nanos? (water resistant? waterproof? damp location?)
There is no IP rating. They are water resistant.
What is PWM?
PWM stands for "Pulse Wave Modulation". The technology is used to control dimming with LED lights. In some cases you can dim LED lights by reducing voltage but a better way (and the only way with some LEDs) is to keep the voltage constant but "pulse" it. That's what PWM does… it pulses more frequent (bright) or less frequent (dim) 12V voltage to the LED. We offer several controllers based on PWM technology:
Dimmer Controller for LED lighting
What is the diameter of the projected light at a distance of 5 feet?
It varies somewhat by color, the warm white spread is about 3 feet at a 5 foot distance.
Are these adjustable to give a flood pattern versus spotlight?
They are spot lights only and are not adjustable at all.
Can you wire a Precision Z, Precision Alpha, or Nano directly to a PicoBoo?
Is there a way to make the nano spotlights blink?