1x Trigger Input

1x Solid State Output (12 or 24V only)

Up to 1 Minute of Animation

No Audio Features

12V1A Power Supply Included

Please note:

Great for controlling air cannons and LED lights!
Economical yet powerful, the PicoBoo ONE has rapidly become a favorite controller for prop programming.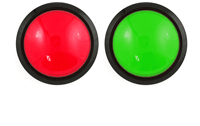 Customized, Real-Time Programming
The PicoBoo ONE is brilliant in it's simplicity. When you're ready to record, push the red button and tap the green button to trigger the motion. Tap it for rapid movement or simply hold it - when you have your program set the way you want it, hit the record button again and it's saved. You can record about a minute of animation at fifteen FPS.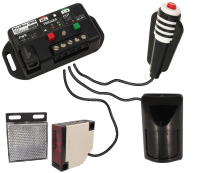 Input Your Favorite Trigger
Rig up the PicoBoo ONE to the trigger of your choosing. The device is intuitive enough to even work well with infrared motion detectors and will wait for them to warm up to avoid being triggered right when it starts. If you want to loop the animation, just connect the trigger to the ground.
Check out our selection of prop triggers here.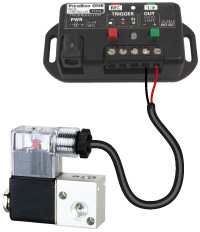 Solid-State Output
The PicoBoo ONE's output can handle up to 2 amps. Depending on the power supply you use, the solid-state PicoBoo ONE can output either 12 or 24 volts. You can also set up the output to replicate a normally-closed contact and trigger an effect to turn off instead of on - good for abruptly turning lights off on people.
Note: this output can't be used to for high-voltage AC devices unless you use a relay.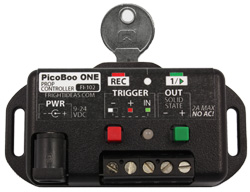 Backup-Protection
Like the other products in the PicoBoo series, the PicoBoo ONE has a write-protection function implemented so you don't have to worry about accidentally erasing or changing your program.
Customer Questions
Can I use a 12V DC 10 Amp power supply with this controller?
Yes, as long as the power supply is 12V DC and at least 1Amp. You can never have too many amps, but never supply more voltage!
Can I trigger more than one animation with this?
Can I have the recorded program run and repeat indefinitely without needing to be triggered each time?
Would there be any problems if I wired one trigger to activate two PicoBoo controllers at the same time?
Can I run a PicoBoo from a battery?
In the absence of a trigger event, what is the idle current draw at 12 volts?
It draws 5mA when idle. It jumps up to 9mA for a split second once every two seconds as it blinks the LED to indicate it's operating.
Can a reed switch be used as a trigger?
Yes. Most reed switches are normally-closed, so depending on your application you might have to set the trigger mode on the PicoBoo to normally-closed too. Either way it will work.
I would like to have a 10 second pause between triggered events.
Record the sequence on the PicoBoo but wait 10 seconds before tapping record to save. That will add 10 seconds of "post delay" during which time a sensor will not be able to activate the PicoBoo.
How do I make it continuously play without having to trigger it?
Simply connect a short jumper wire between (-) and (IN) and it will play the program continuously.
After the PicoBoo is triggered and running animation, will another trigger during the animation restart the animation?
No, the program will run to completion.
Does the PicoBoo power supply support 220 volts 50 hz?
Yes, the 12V power supply included with the PicoBoo controllers will run off of 220V 50hz power as well as 110V 60hz.
Is there a way to loop the program?
Yes, you simply connect a short jumper wire between (-) and (IN).
Will this controller run servos?
Is it possible to trigger this controller with a wireless remote from Home Depot?
NO! Motions sensors from the hardware store are 120V AC and will burn up the controller. Only 12VDC trigger devices must be used with the controllers.
Can these be battery powered?
The PicoBoo and BooBox controllers can run off of a 12V battery. We recommend one with high amperage such as a car, motor cycle, or alarm system battery.