All the required pneumatic and electronic parts for the "Ground Breaker" prop.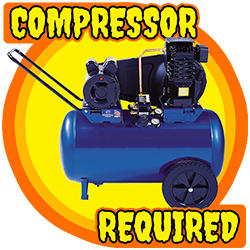 This item requires an Air Compressor. Not included!
The "Groundbreaker" is a popular Halloween prop that is often paired with a zombie or other monster. As there are many ways to build this prop, this kit does not come with instructions - just the parts. You can find many quality how-to instructions online.
Kit Includes:
2 Double Acting Universal Mount Cylinders (3/4" Bore x 2" Stroke)
2 Cylinder Hook-Up Starter Kits (12VDC)
All Required Mounting Hardware
40' of 1/4" Airline
Regulator
Fittings
Optional: Controller of Choice
Optional: Trigger of Choice
Customer Questions
Does a T-Splitter come with this to hook up both cylinders to an air compressor.
Customer Video
One Cool Example of A Ground Breaker Prop