Arm spins in a wide circle.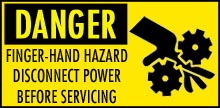 Attach a handle to the mech and put it in the hands of a witch or skeleton to create a witches brew or stirring cauldron illusion! Comes complete with a special mounting cylinder designed to hold a broom type handle.
Comes complete with the FrightProps High-Torque Dual Speed Prop Motor and our High-Amperage Power supply. Use the optional PicoVolt controller for even more control.
Customer Questions
Can these motors be run right from a 12V car battery?
Yes, they work great from a 12V DC car or motorcycle type battery.